29 March 2023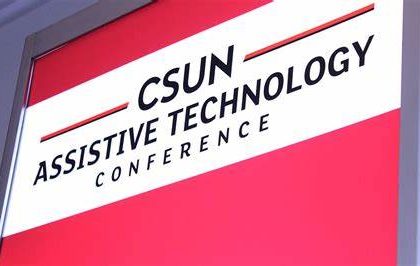 The California State University, Northbridge Centre of Disabilities (CSUN), once again held its annual CSUN Assistive Technology Conference (the CSUN conference), this month in Anaheim, California at the Anaheim Marriott. Over 400 sessions highlighted the latest in assistive technology (AT) and developments in accessibility, and is a conference designed and attended specifically for researchers, practitioners, educators, advocates and people with disability. The conference is in its 38th year.
Speakers from all areas of expertise led sessions, including a Google team of three – Jill Strawbridge, Rain Michaels and Shari Trewin – who presented their research, design and engineering processes for AT-based online reading.
What was particularly exciting was a showcase led by Sony, as an exhibitor. Here are some of the highlights of what they had to share.
BRAVIA™ 4K LCD TV
Assisting with vision and hearing, the TV offers a variety of accessibility features. Guests of the conference were able to experience the Text Magnification Function, which magnifies text on the screen. Simply by talking to the TV, users can utilise voice commands to do such things as adjusting the volume and searching for videos on Youtube, as BRAVIA is equipped with Google Assistant. Sony and Google also explained how such an independent TV was developed for screen reader users.
PlayStation 5
Particularly exciting for gamers, the new console has a screen reader feature, closed captions and chat transcriptions. There is also display options like text size adjustments and colour correction.
Alpha™ Interchangeable-Lens Camera and Cyber-Shot Retinal Projection Camera Kit.
With a screen reader feature reading menus and video playback screens, these select digital cameras users' camera operations. 10 languages on an Alpha camera are also supported.
Xperia 1 IV
These series of smartphones are equipped with accessibility features assisting with vision, hearing and action such as the Google Screen reader TalkBack.
Self-fitting Over-the-Counter (OTC) Hearing Aids.
While currently only available in the US, this is still an exciting development. Launching in October 2022, the CRE-C10 has a discreet design and the CRE-10 comes with Bluetooth and a streaming music playback. A smartphone application allows users to create a hearing profile their hearing.
These are all exciting updates and just shows how accessible the world is becoming. For more information about CSUN, go to the CSUN website.