22 March 2023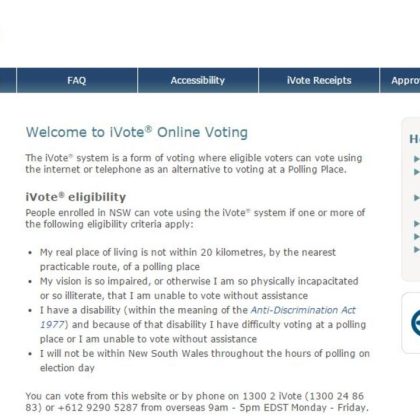 Australian voters who are blind or have low vision have been angered by the decision by the NSW Electoral Commission (NSW EC) to decommission iVote, due to a technical botch in the local elections in 2021.
Initially utilised in 2015, iVote includes telephone assisted voting (which will still be used this upcoming election), internet voting and automated telephone keypad voting. Though telephone assisted voting will be available, voters with disability have said that it falls short on providing the autonomy and confidentiality that they had when using iVote. There have been complaints that it involves reliance on people on the other end of the phone. If they are not available, they do not have the ability to vote. Mr. Maguire, one such voter, asserts that the process can be impossible, noting that through telephone-assisted voting it could take up to two and a half hours voting below the line in the Upper House ballot paper.
Sally Aurisch, Blind Citizens Australia CEO, says the move was "discriminatory" citing the unavailability of candidate lists in large print, audio, ex-text, braille and braille ballot papers.
The NSW EC have acknowledged it was a "disappointing development" but maintain that an updated system would not be ready in time. A review into technology-assisted voting is now taking place, with input from advocacy groups such as BCA, Vision Australia and Guide Dogs NSW. The findings aim to be reported to the government by August 2023.
For further information, please read the article by news.com.au on iVote being decommissioned.