13 January 2023
Written by Laetitia Thompson, Senior Digital Content Editor of the Centre for Accessibility Australia.
What an event this year's Consumer Electronic Show (CES) turned out to be.
Taking place in Las Vegas in the first and second week of January, the biggest global tech event did not disappoint, with accessible innovations ranging from personal care to flexible screens and everything in between, that you can find out more about in our previous article about our top picks at CES 2023.
But it was Sony's 'Project Leonardo' that will catch the eye of any gamer with disability, and I admit, my heart skipped a beat at seeing this announcement.
During their presentation, Sony announced a new accessibility controller kit for the PlayStation 5. Currently in development, this kit is completely customizable, allowing players to configure the controller in a way that works with their disability.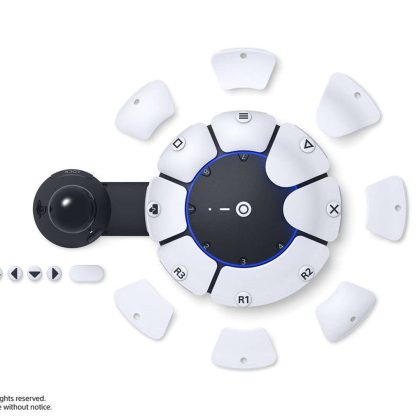 As a child of the 90s who was also an amputee, and the younger sibling (meaning I had to abide by the unbreakable, sacrosanct, golden, sibling rule of having to pick Luigi while my older brother played Mario during Nintendo sessions) I spent way too many hours happily playing with the trusty and much used N64 controller. But as gaming got more sophisticated and consoles fiddlier, I found myself in early gaming retirement. The latest bout of nostalgic releases in the past few years such as the Nintendo Switch had me wistfully following my friends on their treks catching Pokémon, and the closest I have been able to get to gaming recently is finding a new obsession in the Netflix original series Arcane.
Designed for people with limited motor control who find it difficult to hold a controller for lengthy periods, or to press tiny buttons at speed, players can utilize options such as changing the position of physical buttons and use button mapping to have any button do almost any supported function. Multiple functions can also be mapped to the same button and vice-versa.
The kit comes with a variety of buttons and analogue stick caps, but it also comes with 3.5mm inputs for added accessories, such as external switches.
Designed in collaboration with AbleGamers, Special Effect and Stack Up, Sony has done its work partnering with organisations who specialize in pursuing accessibility in the video game space.
With Xbox launching their Xbox Adaptive Controller a few years ago, it is good to see Sony starting to play catch-up. This makes my little Millennial heart happy.
No word yet on a specific release date, but who knows? Maybe it'll be released around the time League of Legends finally drops on PS5. Maybe even in time for season 2 of Arcane. This amputee can dream.
For more info, please read the MSN's article on 'Project Leonardo'.