10 August 2022
On July 12th NASA released the most detailed photos of the universe to date, that left many in awe. The photos from the James Webb Space Telescope were clear and crisp and expressed the beauty of space. However, what made this event even more significant was the thoughtful alt text that accompanied them to support people who are blind or have low vision.
Alt text allows a person with vision impairment to listen to a description of an image using screen reader technology. Images with Alt text are accessible to everyone. in the recent photos shared by NASA it allowed persons with vision impairments to know they were viewing an image of the celestial place with an array of shapes and colours.
Many expressed their gratitude for the detailed alt text description online.
"If anyone ever tells you alt text isn't important, show them @NASA's alt text for the #WebbSpaceTelescope images," Kate Meyers Emery tweeted. "They are able to convey the wonders and beauty of these in words, making these breath-taking views accessible."
"This isn't just a stunning picture from @NASA, it's a brilliant example of how to use alt text," the Royal National Institute of Blind People tweeted. "Do you agree?"
The following is an example of an image taken by the telescope (image © Copyright 2022 NASA)
And here is its photo and alt text: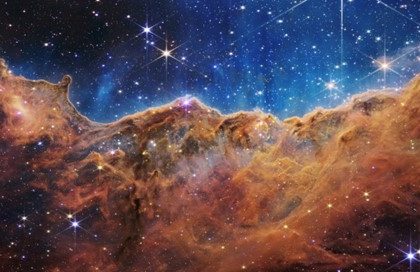 "The image is divided horizontally by an undulating line between a cloudscape forming a nebula along the bottom portion and a comparatively clear upper portion," reads one. "Speckled across both portions is a starfield, showing innumerable stars of many sizes. The smallest of these are small, distant, and faint points of light. The largest of these appear larger, closer, brighter, and more fully resolved with 8-point diffraction spikes. The upper portion of the image is bluish and has wispy translucent cloudlike streaks rising from the nebula below."
The details provided by NASAs alt text allowed those who are visually impaired, or those who want to know more about our universe, or those who appreciate a poetic piece of writing to truly immerse themselves in this image.
The breath-taking bundle of descriptive images came together through a team of writers, designers, scientists, and educators who stated that the alt text was high on their list of priorities. The images were taken and published over the span of approximately a week but the conversation around accessibility was around two years in the making. In this time, they all felt they learnt a lot about what works and what doesn't when it comes to digital accessibility.
The beautifully described celestial images have impacted many people globally, and the team behind it have been overwhelmed with the positive impact their words have had.
For many more great images and alt texting please visit the space telescope website.