CEO
Dr Scott Hollier
Scott Hollier specialises in the field of digital accessibility, and has a PhD in Internet Studies, a Master of Management, and senior management experience across the not-for-profit, corporate and Government sectors. Scott also holds academic positions at Edith Cowan University and the University of South Australia and is an Invited Expert for the W3C Accessible Platform Architectures Research Questions Task Force. Scott has a lived experience of disability as a person who is legally blind, and as such has both a professional and personal understanding of the importance of accessibility.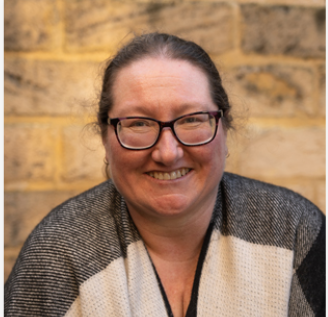 Office Coordinator
Colleen Hunter
Colleen brings more than 30 years of administration experience to CFA Australia: 16 years working within various university libraries and over 14 years working in both private and public sectors, including her role as Court Clerk at the Workers Compensation Board. Colleen has lived with chronic anxiety and depression for 21 years, and suffers from Spinal Stenosis, as well as arthritis. During Colleen's quiet time she is an active volunteer and has self-published 8 books.
"I feel extremely lucky to have the opportunity to help people with disabilities through my work at CFA Australia," says Colleen.
Senior Digital Content Editor
Laetitia Thompson
Laetitia is a graduate of Murdoch University with a Bachelor of Arts in English, Creative Arts, and History. Prior to joining CFA Australia, she worked as an administrative assistant and an English tutor for children. With this experience, Laetitia is excited to be able to write content about the world of digital accessibility for CFA Australia.
Outside of work, Laetitia writes historical and urban fantasy. She is also a fan of anime and is particularly interested in the representation of disability and the use and design of prosthetics and gadgetry in the medium.
Projects and Event Coordinator
Julia Wheeler
Julia is the newest addition to CFA Australia. With a Bachelor of Commerce Degree majoring in management and marketing, over 10 years of experience in project coordination, events management, and marketing, Julia has quickly become an integral part of the team at CFA Australia. Upon the completion of her Master of Teaching, Julia sought to gain knowledge on the importance of accessibility within teaching and learning parameters.  Holding a strong belief in the power of improving accessibility, Julia enjoys liaising with a variety of people across sectors and working as a team towards a common goal.
Outside of work she enjoys spending time with family, travelling, beach and bush walking, and the ambience of a café to ponder the world. Julia also actively participates in community events, as "everyone has a story to tell".
"I am appreciative and grateful for the life I have lived so far and strive to make a positive impact on the people around me." Julia Wheeler
Junior Accessibility Analyst
Chris Edwards
Joining CFA Australia in 2021, Christopher has a Certificate IV in Programming and Cyber Security, and a Certificate III in Information, Digital Media and Technology. Being neurodiverse – having been diagnosed with Autism – Christopher supports the auditing team by offering different cognitive perspectives on digital accessibility. Before CFA Australia, Christopher worked briefly with a business that refurbished cable drums and did work experience at Sentient Computing, Bella Ridge Estate and Informed Technology.
Outside of work, Christopher's interests include computers and gaming. He is also interested in machinery, particularly cars and trucks.
Junior Digital Accessibility Analyst
Emma Otley
Having moved back to Perth after 19 years in Victoria & Geelong, Emma's starting afresh; a new career and home life. With an Advanced Diploma in Graphic Design and Multimedia and life skills developed around hospitality, importation, and logistics within sectors of fine cheese, wine & spirits, food, and cigars worlds, Emma provides a detailed eye, knack for organisation and a determination for task completion. Emma also brings key lived experience to CFA Australia, having been diagnosed with ASD (autism spectrum disorder) in 2021.
Emma likes a highly varied range of music & movies and could not love anything more than catching up with friends or dancing the night away at a gig.
"I was born to be real, not perfect and CFA Australia, is the first workplace where I have been accepted for who I am & what I am (neurodiverse)."
Junior Digital Accessibility Analyst
Nicholas Kapirnas  
With qualifications in film and television, Nicholas has an Advanced Diploma in film from North Metropolitan TAFE. Prior to joining CFA Australia in late 2022, Nicholas worked in the printing shop for seven years at the University of Western Australia.
Living with depression and anxiety, Nicholas offers a cognitive understanding of digital accessibility. Outside work, Nicholas likes music, photography and has a collection of vintage electronics. 
Junior Digital Accessibility Analyst
Wes Maeder
Wes has overcome a multitude of psychiatric barriers, constantly striving for his own betterment with life changing knowledge.   While also having beaten cancer at the age of 23, Wes utilises his lived experiences to help others in similar positions.
Wes holds a wealth of experience and is an autodidact (self-teaching machine) with an ever-changing interest that includes computers, which is employed in the auditing processes for the CFA Australia.  Wes pursues multiple hobbies outside of CFA Australia, which includes being an avid digital artist and a gamer.
"He who treasures his body as much as the world can care for the world. He who loves his body as much as the world can be entrusted with the world." Wes Maeder quoting Tao Te Ching.

Bryan Benjamin
Bryan brings a dynamic perspective to CFA Australia, having moved to WA from Singapore in 2023 to complete a bachelor's degree, majoring in Anthropology and Sociology. While studying, Bryan worked as a disability support worker, allowing him to realise his passion for service and advocacy for people with disability.
In my free time, I enjoy exploring WA and hitting the gym, but I am happiest gaming at home with music.
"I prioritise lived experiences as a key marker for discussions. Only through hard work, determination, and 100% effort can we invoke change for people with disability." Bryan Benjamin
Junior Digital Accessibility Analyst
Aarthi Gurunathan
Aarthi joined CFA Australia in late 2022, and has a Master of Science, in Nursing. Aarthi has a lived experience of disability, having low vision as a result of the eye condition Retinitis Pigmentosa.With this personal experience, Aarthi brings her skills and knowledge to digital accessibility. Alongside working at the Centre, Aarthi volunteers her time at the Perth Childrens' Hospital. She is particularly interested in learning more about technology throughout her career.